One of the most prominent names in the entertainment industry, Filipina actress and singer Nadine Lustre released her first studio album entitled Wildest Dreams on Oct. 31. In this visual album, Lustre's journey was represented by the stunning animations, cinematography, and breathtaking wardrobe and styling—two of which were designed by a Fashion Design and Merchandising (FDM) alumna named Darlenne Rivera.
ID 115 Darlenne Mae Rivera received the "Best Design Concept" award during Sinulid 2019: Altered Translation. Rivera is now steadily making a name for herself within the fashion industry, and was first tapped for the project at the beginning of the pandemic.
Crafting a vision
In an interview with The Benildean, Rivera recounted her experience. "Sourcing materials at this time was hard. But I wanted to grab this opportunity because I knew this would be a great experience. Consultation started through her stylist online. (...) I designed Nadine Lustre's garment through her visual concepts, [which] was 'a soul that wanted to escape like a fish trying to get out of a net'," The resulting design, was a hand-crocheted off-shoulder piece which gave the impression that the wearer was freed from a net, and now wears the garment as a symbol of freedom.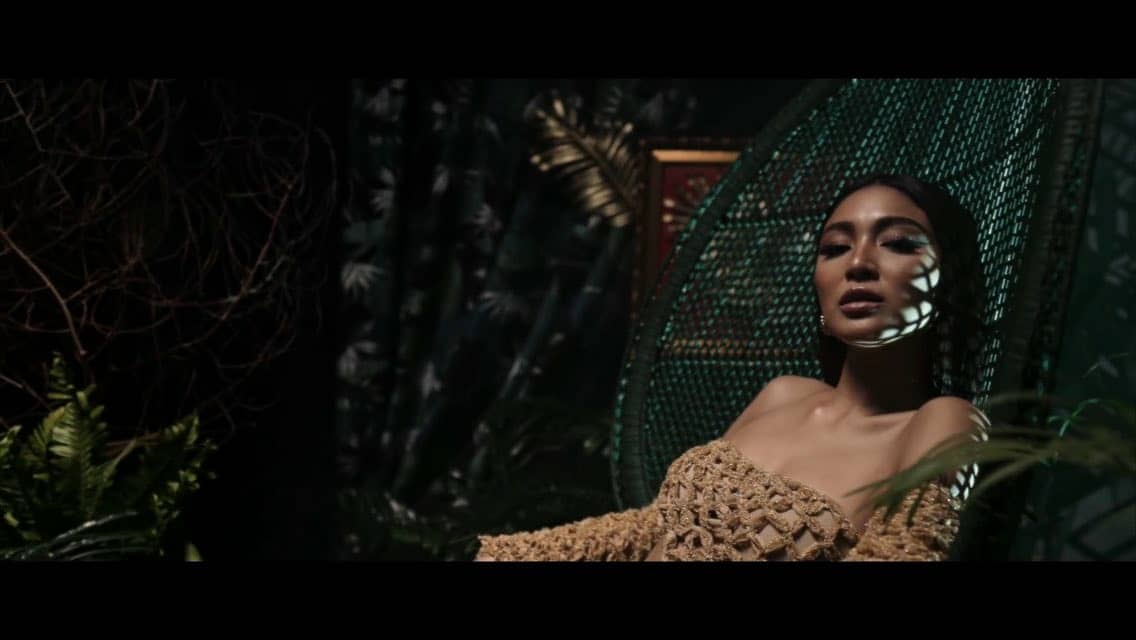 While her piece in "Glow" was specifically designed for Lustre, another of Rivera's creations was featured in the Wildest Dreams visual album—a sleeveless babydoll style dress made up of hand-crocheted layers that go from black, to gray, to midnight blue. Worn during the song "Limbos," this power-exuding look was part of Rivera's thesis collection which was titled "Dreams of Happiness."
Designing dreams
Meanwhile, Rivera designs her own dreams as the collection itself has its own story to tell.
"Turning strips of tulle fabric into yarn talks about the process of making inevitable changes. The loops and turns of crochet signifies the path one has to go through to find the happiness they've always dreamt of, and the glitters are stars that you wish upon. Ultimately, this collection is about dreaming of happiness that lasts and giving the hope of happiness, in spite of everything," Rivera explained.
Her collection consisted of three glittering pieces—combining elements of elegance and whimsical dreams with a palette of blue hues and her signature crochet style.
Rivera also learned crochet from her mom and from self-studying using YouTube tutorials, which then became her signature style.
"I crocheted when I wanted to, when I felt like it. My friends noticed I was incorporating crochet in most of my school projects, I wasn't really aware of it. But soon I realized that this is my thing. This is what makes me unique, and through my thesis I discovered I can go far with crocheting," she added.


What's next?
Now, a year after graduating, Rivera says she is currently exploring her style, but continues to incorporate crochet in her pieces as a form of textile manipulation. Her creations have been featured by a number of publications such as MEGA magazine, Preview.ph, Preen.ph, and Scout magazine.
As for what's next, Rivera says "I want to be a 'Designer of Dreams,' creating pieces that bring joy to my future customers. I am hoping to release a new collection in the near future and hoping to have my own atelier soon."
Big things are surely up ahead for Rivera. Look out for more of her breathtaking works! Follow Darlenne Rivera on her Instagram @bydarlennerivera, or check out her Facebook page here.