Huminga is the second solo album of Filipino musician, singer-songwriter, and Benildean Music Production alumnus Zild (Zild Benitez). Released last April 8 via Warner Music Philippines and Balcony Entertainment, the 10-track record features previously-released singles such as "Kyusi," "Apat," and "Bungantulog."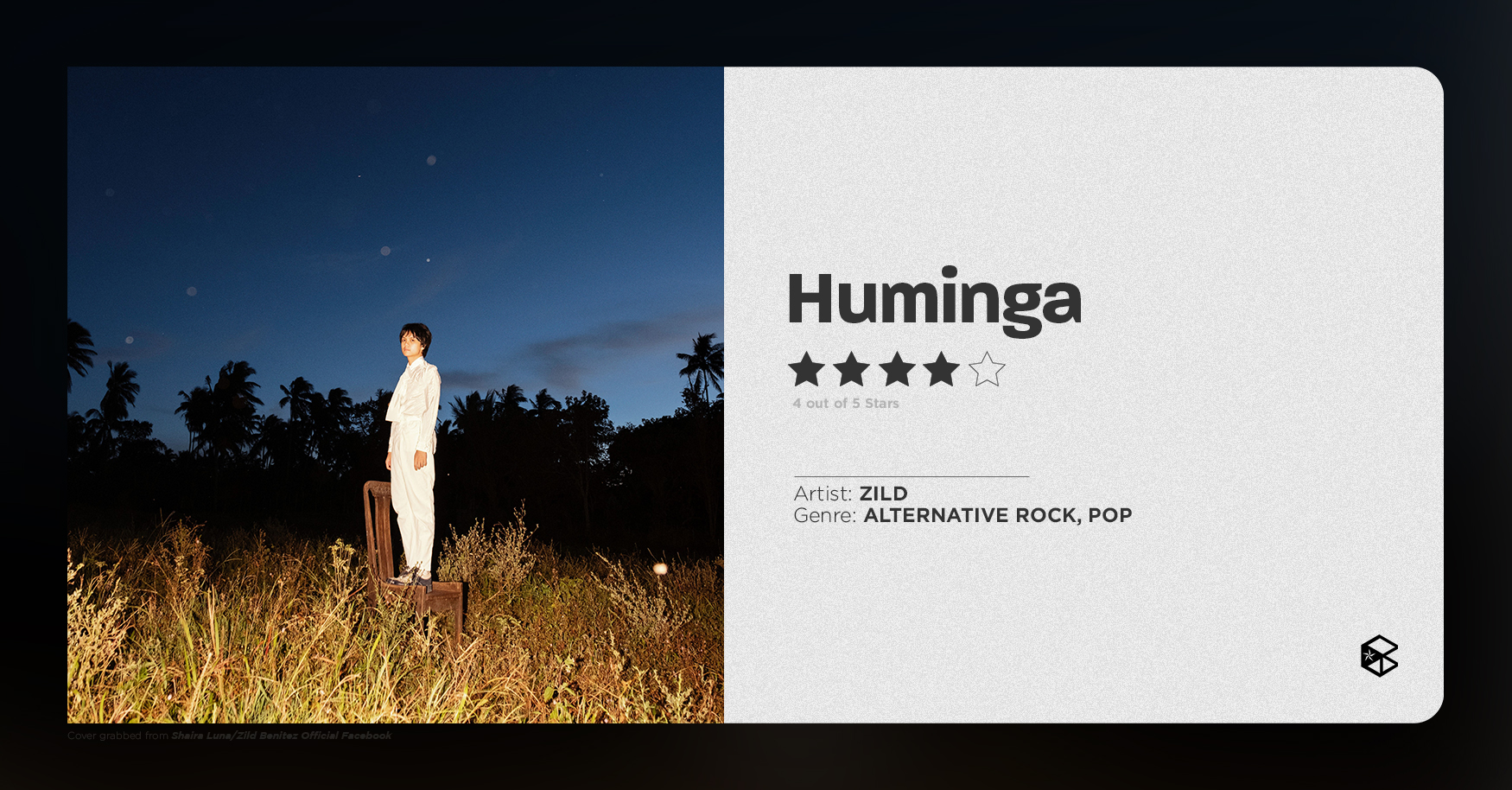 Escape from reality
Roughly eight months after the release of his debut album Homework Machine, the IV of Spades (IVOS) bassist returns with a much more prominent reflection of his self-identity.
In an interview with The Benildean, Benitez shared that he's feeling much better now than he was last year, "The change of pace of my life was overwhelming at first and not doing live shows made me ponder about my identity for a while too."
According to Benitez, we're stuck in the loop of isolation and in the absence of physical comfort, we long for company through art. "I think that music, writing, reading, and talking to people close to me really helped me to be mentally stable. It's a tough year for everyone and I think we should look out for each other more often," Benitez said as he shared his avenues for coping.
Moreover, reading Charles Bukowski's poetry books before hopping into the studio became a daily morning routine for Benitez. He has also finished Ray Bradbury's classic 1953 dystopian novel "Fahrenheit 451." However, he gets easily distracted at home, thus having a hard time focusing on novels compared to the idle time he had while travelling in the pre-pandemic.
Meanwhile, the lockdown manifested the cinephile in him as he watched a lot of classics from Philippine cinema such as "Maynila, sa mga Kuko ng Liwanag," "Insiang," "Tinimbang Ka Ngunit Kulang," and "Kakabakaba Ka Ba." Something to add to your watchlist, amirite?
On the musical side of things, the albums that kept him company were David Bowie's Hunky Dory and The Rise and Fall of Ziggy Stardust, Cynthia Alexander's Insomnia & Other Lullabyes, Bright Eyes' I'm Wide Awake, It's Morning, and The Strokes' The New Abnormal. Meanwhile, American indie-rock singer-songwriter Phoebe Bridgers, 70's Manila sound pop group Cinderella, and 80's new wave legends The Velvet Underground served as companions in his own musical journey throughout quarantine.
A journey through nostalgia
Unable to create a lot of new memories while in lockdown, contemplation helped Benitez to write and deal with his ignored emotions, thus creating a sense of nostalgia with "Huminga." According to him, "The most challenging part of writing this record is not getting bored and staying within the limitations."
The album's first single "Kyusi" was released on February 9, 2021. Here, Benitez shares his testament to one's longing for places and young first love memories, "Sasamahan ka sa Kyusi at iikutin na ang UP Diliman. Pagsakay natin ng jeepney, pupuntahan naman ang bagong sinehan."
Moreover, the second single "Apat" released on February 25, 2021, is a reflection of friends growing up and growing apart. Losing friends is a bit more painful than a breakup with a significant other. With speculations that the track implies Benitez' experiences with his IVOS cohorts, the track reminisces a beautiful friendship despite the circumstances, "Parang kahapon lang no'ng tayo'y magkasama. 'Di namalayan tayong apat ay tumatanda. Ngunit ngayon tatanggapin na tayo ay magkakaiba. Alaala nga na lang kung sino ang mabaho ang paa."
The last single off of the album, "Bungantulog," was released on March 18, 2021. As one of the singer's personal favorites, the track talks about accepting the harsh realities of dreaming. The pre-chorus goes, "Sa'king paglingon, may bumabaon. Alaalang 'di na makalimutan, 'di mawawala. Bigla kang tulala. Sarili lang nakakaalam nito."
Even while going solo, Benitez' creative endeavours aren't a one-man show. As an indecisive person, collaborating helped him to view different perspectives for a particular decision, "I think collaborating with people helps the art to access more possibilities if you work with the right person. It shows different roads of where the music may lead."
One Click Straight drummer Tim Marquez (Timothy Run) served as co-producer and designated creative companion for the album.
On the other hand, OPM legend and Balcony Entertainment boss Rico Blanco helped him with the business side of things, such as the logistics and finances.
Supplementary recommendations
"Huminga"

- The five-minute opening track perfectly sets the mood of this album. Benitez reminds a loved one to take it slow and feel all the emotions. "

Magpahinga ka na, sinta. Huwag matakot. Maramdaman mo ang sariling lungkot

."
A Love Song - As contemplation kept Benitez company, this sounds more of a laidback

Paul McCartney

track, "

I'll love you 'til the sun is gone. I'll love you even if it's not fun. I'll love you 'til my whole heart bleeds. I'll love you if that's all you need

."
"Glyndel" - This track gives off "softboi" vibes. "

I'm scared to lose you (You can hurt me too). Don't leave me (I'm in love with you). My angel in the dark

," Benitez expresses his love for his significant other, in which the title is titled after her name.
"Hele" - The closing track is a calmer ending to the album, sounding like

The Beatles

' "Good Night" from their

self-titled

1968 double album. A reminder to be calm amidst the noise, the chorus goes, "

At kukumutan ang kalungkutan. Dito sa duyan, langit ang kaibigan mo. Di kailangang magtago

."
Overall, Benitez was able to express himself with the lyrics and sounding of this album. While his debut album was forged out of his boredom, this album was carefully curated as an extension of his feelings and emotions heading into one year of pandemic lockdown.
Benitez vows to take things slower this time around and hopes for a better tomorrow saying, "All I hope for now is to stay alive and hope that people will stop fearing getting vaccinated."

This article was originally published on April 16, 2021 at The Benildean's Facebook page. Click here to view the Facebook post.