Apple's "Spring Loaded" event unleashed the colorful upgrade of the iMac, iPad Pro with M1 chip, a new color for iPhone 12, and their newest AirTags. Some of their services had new upgrades too.

For this year's Apple event, CEO of Apple Inc. Tim Cook started the stream on April 20 from the Apple Park, highlighting the company's environmental efforts, one of which is the company's switch to carbon neutral corporate operations, running on 100% renewable energy. Apple also launched the Restore Fund, which also aims to deduce atmospheric carbons for each investment.

Here's what Apple has in store for tech enthusiasts and loyal customers:


New iPhone 12 color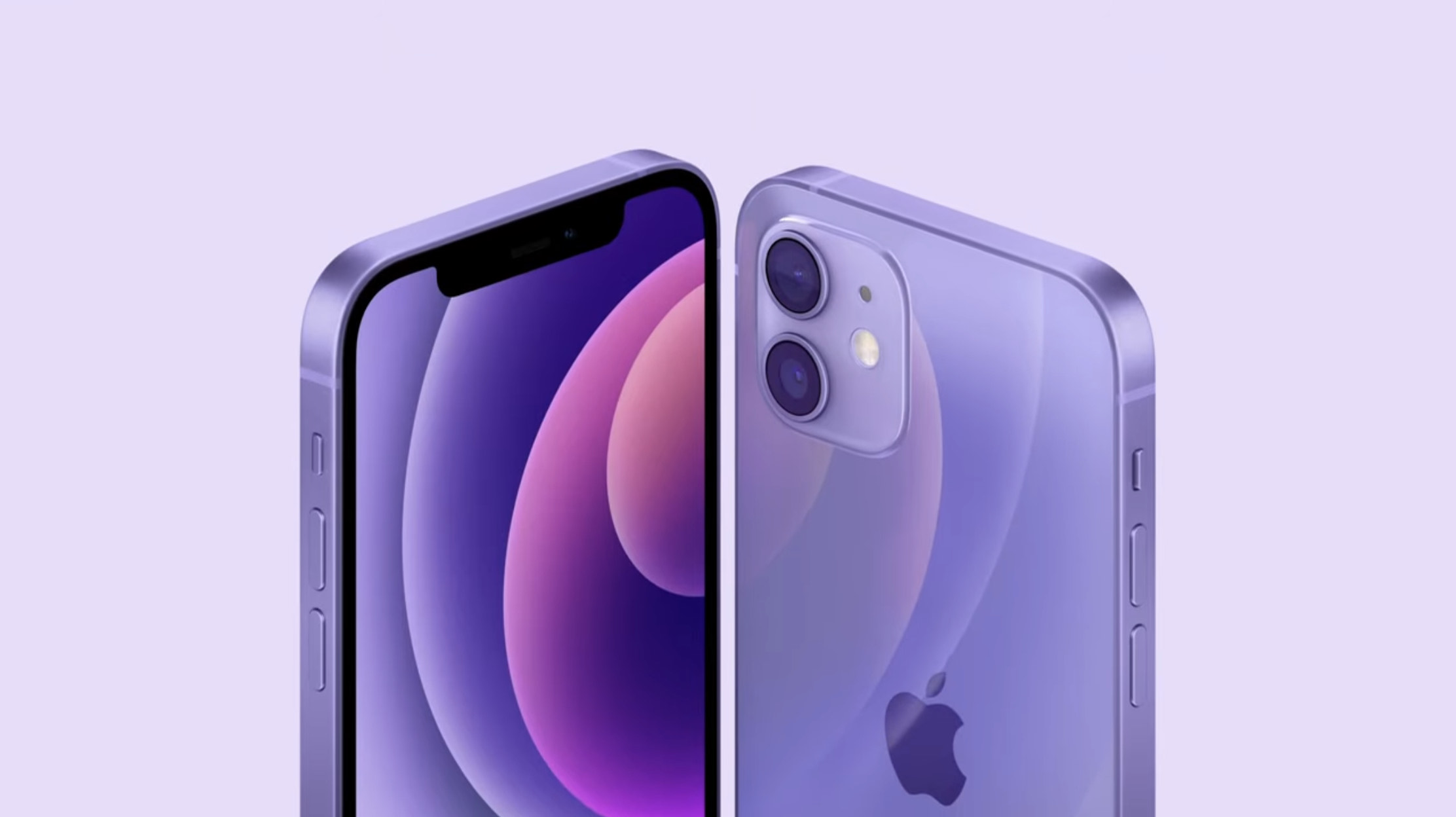 To add to the new colors of the iPhone, Apple releases a new color to the iPhone 12 family—stunning purple. The new color variation joins the iPhone 12 line up available for pre-order next week.


Newest Apple accessory featuring 'Find My'
A new solution to help users find not only their phones, but also their other valuables, was introduced through the power of one of Apple's pioneers, Find My. The Engineering Program Manager of iPhone Systems, Carolyn Wolfman-Estrada, unveiled their newest AirTag to keep track of the users' items.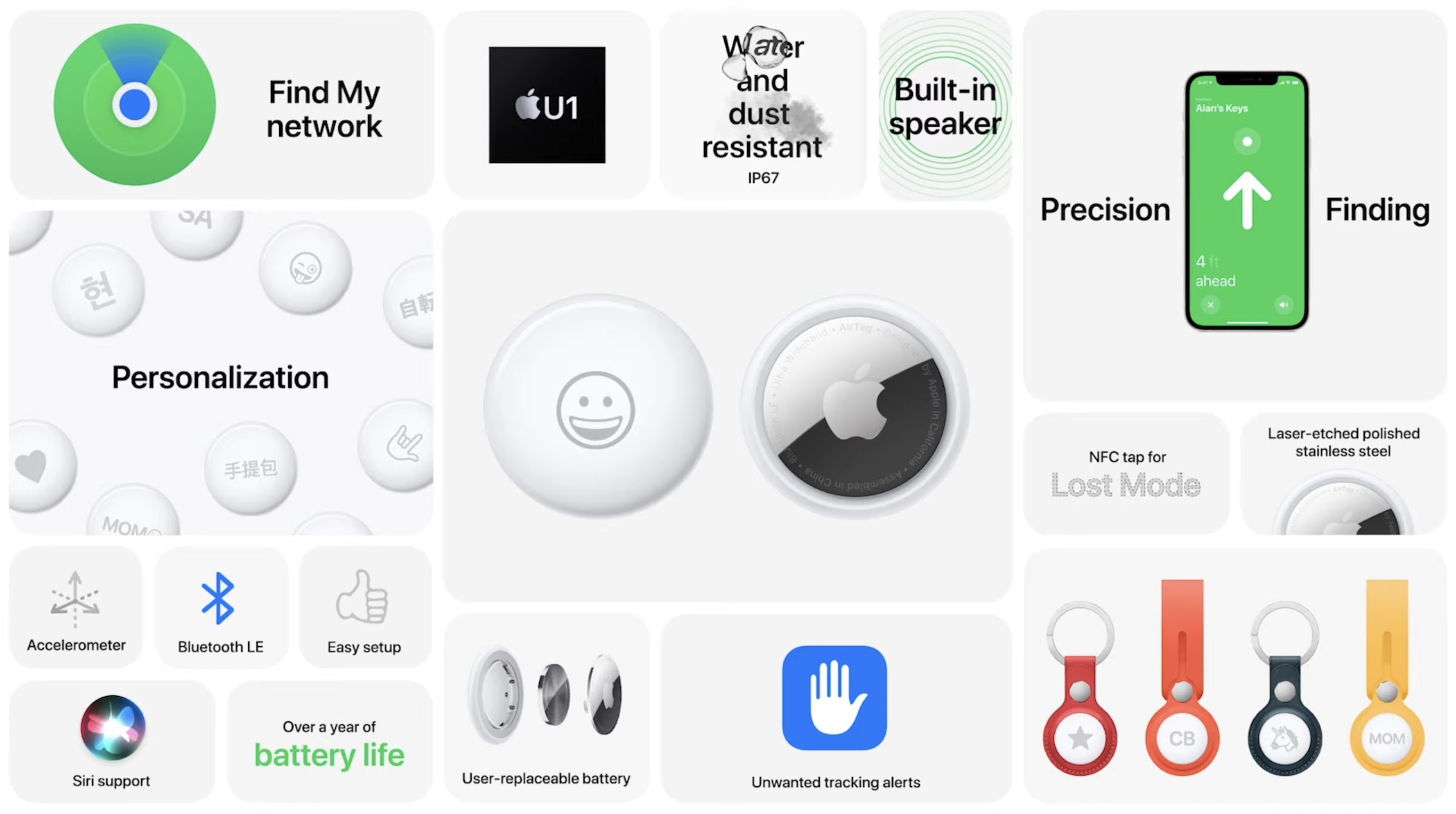 What's in store for the new AirTag?
Uses the

Find My Network to help users keep track of their things through the Find My application



Designed to "track items, not people" through

unwanted tag detection

,

rotating identifiers

, and

audible alerts


Could be personalized with accessories



Maximizes the new

Precision Finding feature from the iPhone, which helps get the precise distance right to the AirTag


These small beacon-type devices will be available on sale for only $29 (Php 1,450) each and $99 (Php 4,950) in a four-pack.


Hardware upgrade in Apple TV 4K
Finally, three years after its release in 2017, Apple gave an upgrade to Apple TV 4K. Cindy Lin, the Director of Program Management in Media Products Engineering, showcased the new streaming box along with its new Siri remote.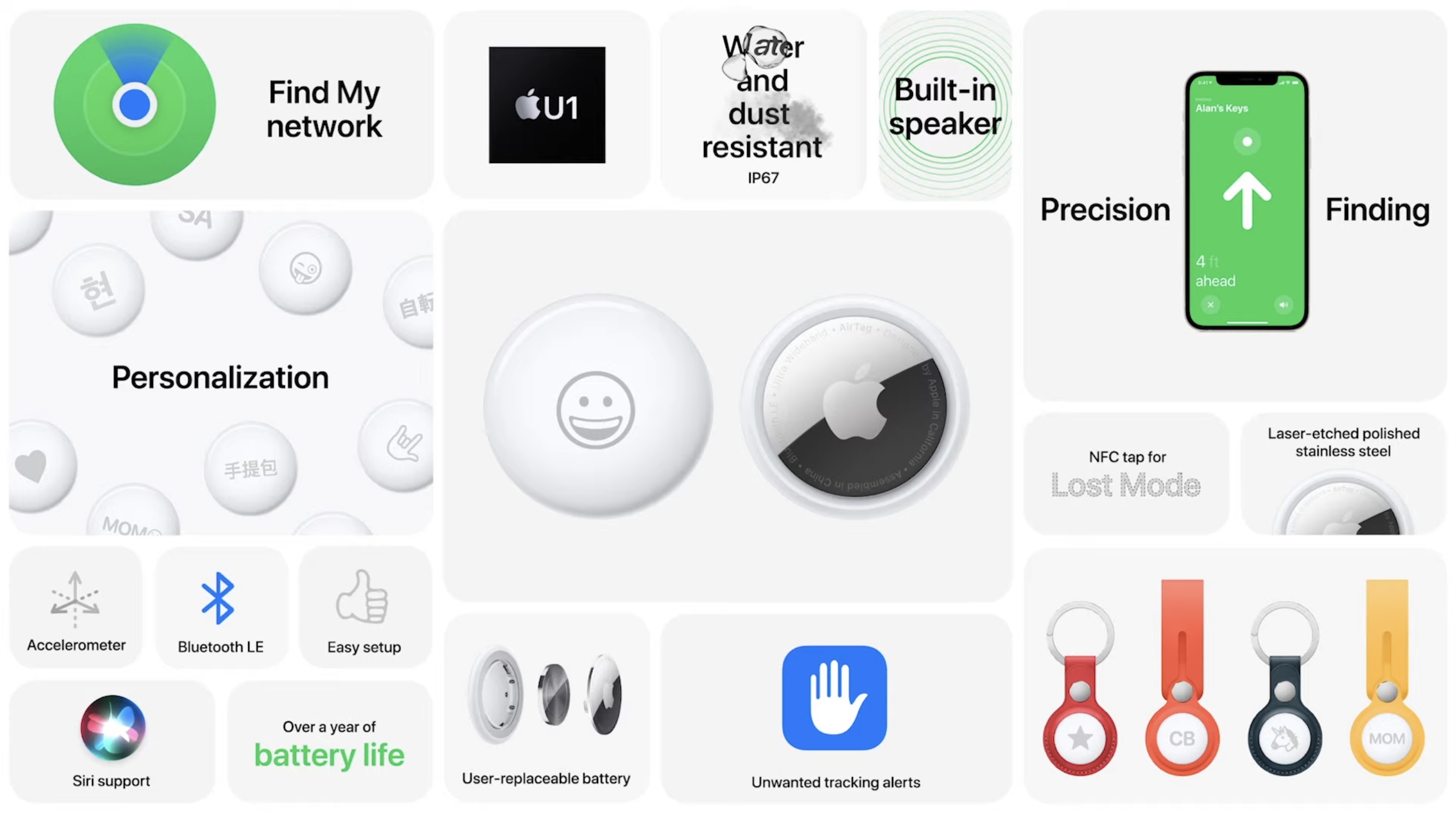 What's in store for the new Apple TV 4K?
Has the

A12 Bionic chip

similar to the iPhone, allowing

HDR in high frame rates


Enhanced AirPlay supporting high frame rate HDR



Works with iPhone's camera to

measure and balance television colors

The Apple 4K TV also features the new Siri remote:
Completely redesigned with an

all-aluminum

body


Contrasting controls color to easily find the buttons


Touch-enabled five-way clickpad for better navigation accuracy and fast directional swipes


Circular gesture with the outer ring, perfect for finding the exact scene when watching shows


Now has power and mute buttons


Siri

button is moved to the side, just like in the iPhone


The Apple TV also features the trailer for the new season of Ted Lasso originally by Apple TV+. Hence, the Apple TV 4K set is made up of 100% recycled aluminum enclosure and will be available for only $179 (Php 8,950) for 32GB, and $199 (Php 9,950) for 64GB.


Vibrantly leveled up iMac
A more personal, more powerful, and more capable iMac was introduced by John Ternus, SVP of Hardware Engineering. According to Ternus, the device was built by M1, a system-in-a-chip innovation of Apple, from the ground up. Colleen Novielli of Mac Product Marketing, and Navpreet Kaloty, Engineering Program Manager of Mac Architecture, elaborated the new incredible features of the newest iMac.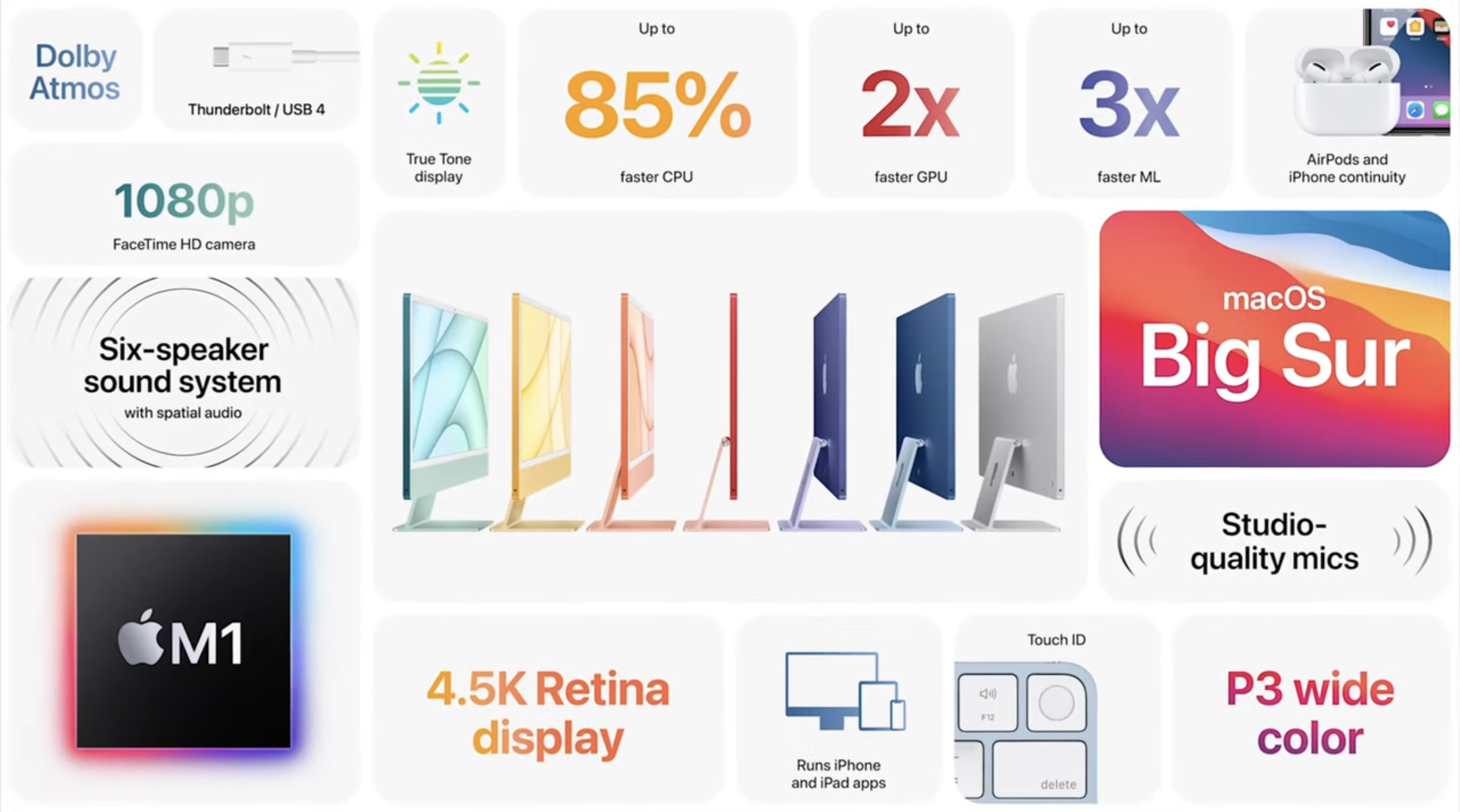 What's in store for the new iMac?
A

colorful burst of a vibrant color spectrum


A single sheet of glass covers the entire surface


11.5 mm thin side profile



The system-on-a-chip

M1 architecture enables the "make it disappear" design objective possible


Smaller thermal system


24"

display with

11.3 million pixels


4.5K retina display


True Tone which automatically adjusts the color temperature to the environmental changes


1080P

Facetime HD camera with

Image Signal Processor (ISP)


Studio quality three-mic array to cancel out background noise


Six-speaker sound system


85% faster CPU
Two-times faster

graphics

, three-times faster machine learning


Universal clipboard

which allows transferring data within the Apple ecosystem

Four USB-C ports and two thunderbolt ports for faster data transfer


Two millimeter cable magnetic power connector


The iMac starts at $1,299 (Php 64,950) in four colors, and at $1,499 (Php 74,950) for the iMac that comes in seven colors and more features.


M1 chip in iPad Pro
The new M1 chip is now included in the latest iPad Pro, as presented by Raja Bose from iPad Product Marketing. Delivering a much more powerful responsive experience, the iPad Pro just got better.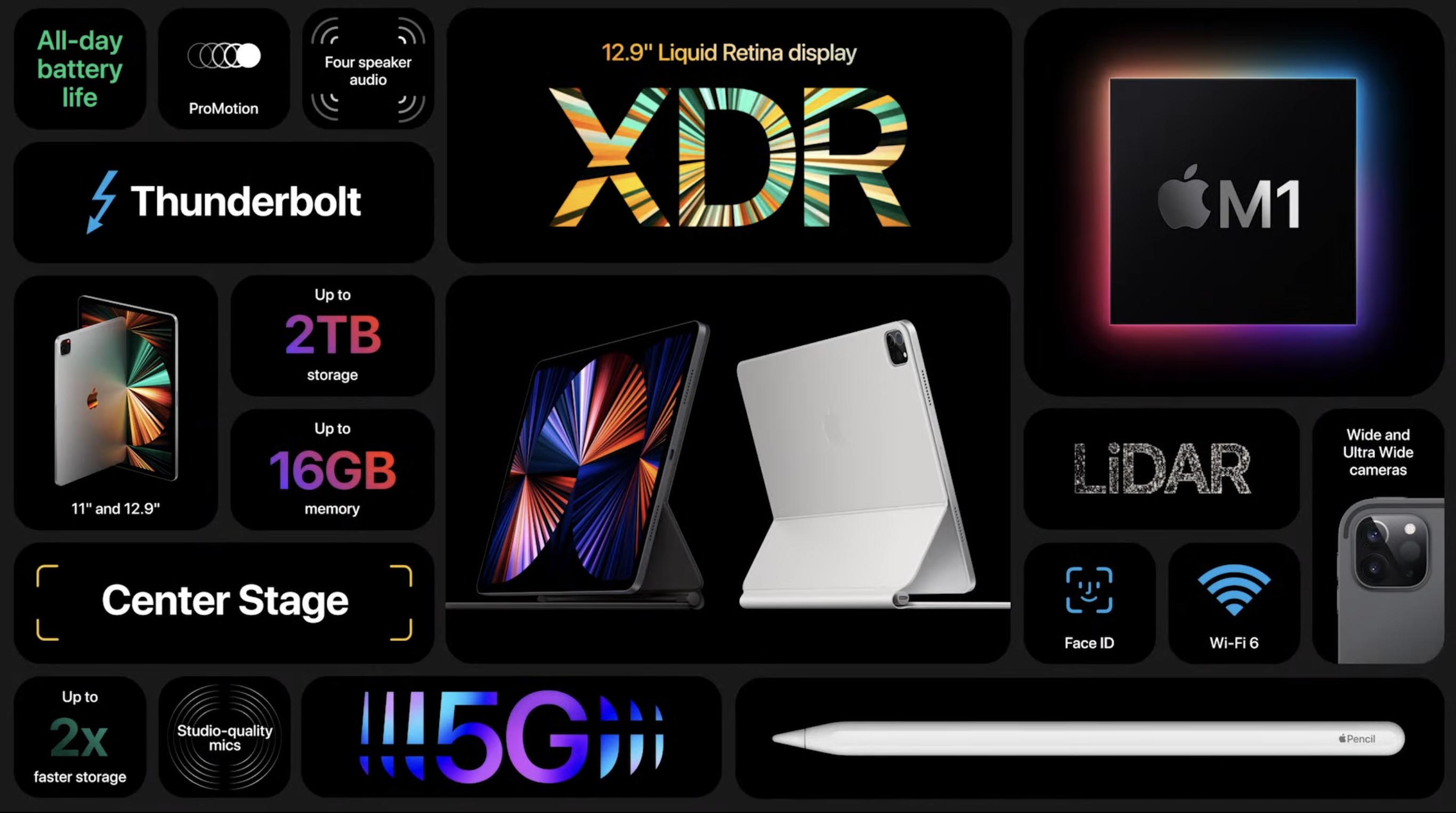 What's in store for the latest iPad Pro with M1 chip?
Fastest CPU core,

50% faster than the previous iPad Pro


40% faster graphics


Two times faster storage


Brand new two terabyte capacity


Thunderbolt

, a four-times more bandwidth and fastest port in iPad

5G cellular connection


Updated TrueDepth camera system, with 12MP Ultra Wide Camera


Centerstage, a machine learning which automatically pans as the user move around



1000 nits full-screen brightness in

Liquid Retina XDR


New languages for the Scribble feature of the Apple Pencil


Added to these innovative new features, the iPad Pro's Magic Keyboard is now also available in white. Everything is also 100% recycled aluminum, and still starts at $799 (Php 39,950) for the 11-inch version, and $1,099 (Php 54,950) for the 12-inch version.

Apple also introduced redesigned features and subscriptions that give users additional benefits and major upgrades.

Reinvented credit card
Cook introduced a "completely reinvent(ed) credit card" with their new Apple Card Family feature, which allows spouses and partners to share and merge their credit lines for financial equity. It also allows anyone in the family who is above the age of 13 to use the Apple Card. Optional spending limits and controls for children can also be set through this feature.


Redesigned Apple Podcasts
Apple also introduced the biggest change for Apple Podcasts since its debut in 2012. From its new application design, channels, recommendations, to its newest Apple Podcast Subscription, this update offers premium subscription to the listeners' favorite creators, along with the millions of free shows.