In a week-long celebration of diverse nationalities and cultures of Benildean international students, the Benilde International Student Emissaries (BISE), the volunteer arm of the Student Involvement Unit (SIU), organized "Cultural Diversity Appreciation (CDA) Week" last May 24 to 28 on Facebook and Instagram.
Throughout the week, BISE showcased factual collaterals, interactive games, live performances, and livestreams—with the goal of enriching knowledge and appreciation of the Indonesian, American, Malay, Indian, Japanese, Pakistani, Vietnamese cultures and traditions within the Benildean Community.
When diversity goes beyond tourism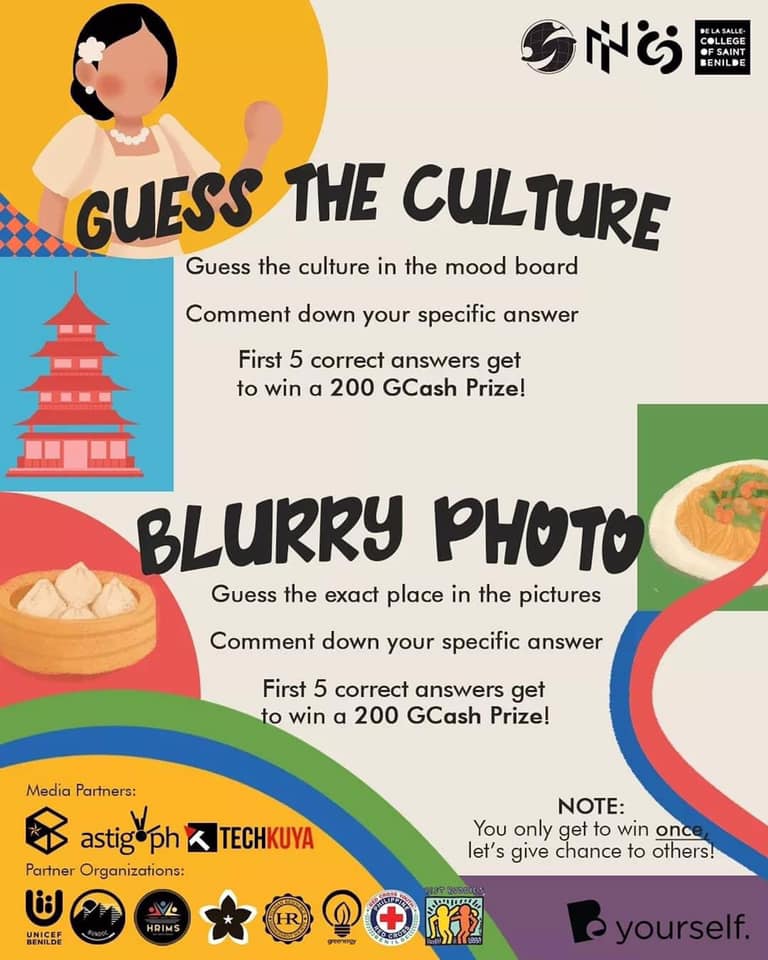 One of the starting interactive games held on BISE's official Facebook page was "Guess The Culture," wherein Benildeans are to guess and comment which culture was being hinted at based on four different photos. Meanwhile, "The Blurry Photo Game" includes a blurred photo of famous places around the world that Benildeans have to guess. Five winners were selected for each game.
Prior to the official launch of the event, BISE gave the community a glimpse of what to expect in a podcast interview with Hotel, Restaurant and Institution Management (BS-HRIM) student Ngo Thi Thao, who talked about Vietnam food and culture.
Not only that, BISE has also provided daily collaterals with "Countrypedia," containing facts of the featured country they have for CDA Week.
Along with this, speakers from different countries showcased their respective cultures and traditions in a series of podcast interviews with the Cultural Diversity Appreciation Podcast.
On the first day, the culture of Indonesia was highlighted in an interview with ID 117 BS-SHRIM graduate Vanco Sualang. In Day 2 of CDA Week, American culture was highlighted in a podcast interview with Mr. Luca Di Feliciantonio. Singapore Representative Ms. Sok Wai Mah was also invited to talk about their traditions on the third day of the event. As CDA Week had reached its fourth day, BISE interviewed Indian representative Ms. Manjusha about what's unique to Indian culture. To conclude a week filled with traveling into different countries, Ms. Michiyo Matsumura, founder of the youth-led non-profit organization Mirai for Kids, talked about the culture of Japan on the fifth day.
Fighting for a safer space for all cultures
In CDA Week's culminating program streamed on Facebook Live, Muntinlupa Representative for Miss Universe Philippines 2020 Ms. Maricres Castro gave a powerful retelling of problems with racial inequality, poverty, and more. She talked about her experiences of racism in America as she lived as a "brown-skinned Filipina."
"I became truly afraid of expressing my feelings out loud, that I might think even worse of me and our entire Filipino people. Looking back now, I realize how wrong I was in withholding those feelings of hurt, because it could have been a teachable moment for her to realize how her words, her prejudice, her racism deeply affect me," she said.
Castro added that, "Each of you [has] been given these phenomenal emotions to care for the oppressed. To help the orphans and the abandoned, and to fight, laban, for justice with ardent religious fervor. You must trust the gut feeling that God gave you [...] I encourage you to search for those feelings and to trust your emotions. Think, then act with bravery, boldness, and compassion like Jesus Christ has done before us."
She shared about the murders of former University of Louisville Health full-time ER technician Brianna Taylor and rapper and security guard George Floyd, which sparked the #BlackLivesMatter movement in 2020.
Bringing the hard conversation closer to her roots as an Asian and a Filipina, Ms. Castro made mention of the injustices that had happened to 39-year-old Filipina human rights advocate Zara Allvarez, 15-year-old Fabel Pineda, and 29-year-old John Huynh, who was fatally stabbed by an anti-masker. As Ms. Castro was among those who rallied for Huynh, she said, "Alam niyong lahat na John Huynh could be anyone of us, and the fact that this city council still has not spoken on the issue of John's murder and they have especially not has spoken of it, as his family had been asking and begging to recognize. It is a hate crime that further perpetuates how privileged people can go, be with their lives not knowing what's happening to us. They can go on without living in the same fear our communities live in every day. But we can't."
Concluding her talk, Ms. Castro encouraged everyone to acknowledge one's own emotions along with the emotions of one's community, because it is brave. "All of these names had stories. The scary part of their story is that it could have been any of us. As we fight for those justices to be served, we are also fighting for our own families, for our own future." She stated that recognizing these problems is just the beginning, and that everyone should not be afraid to question authority, and to be themselves in doing so.
Ms. Castro also shared the following hashtags and Instagram pages that the public may follow in support for the people and their families that she has mentioned in her talk.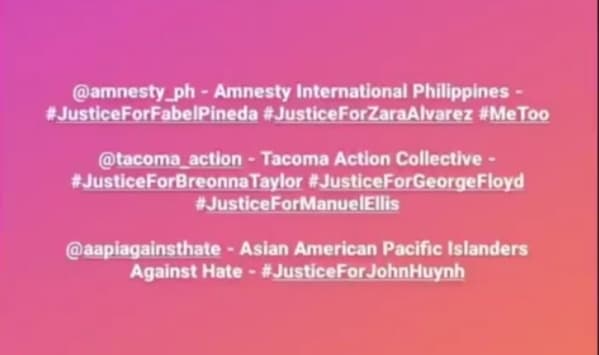 Benilde International Student Emissaries (BISE) is a "volunteer arm of the Student Involvement Unit" with the goal of fostering international and cross-cultural experiences among Benildean International Students through its programs and activities.