The College's AB Theater Arts (ABTHA) production house Sining LABinsiyam (SiLAB) invites you for its first-ever online interactive puppet show Ang Red Dress ni Makisig on July 23 to 25. Together with Quezon City Public Library (QCPL) and DLS-CSB Service Learning Unit, it will be the first and fully online performance by ID 119 ABTHA students under SiLAB's Production Management class.

Set in Catacutan Elementary School, Ang Red Dress ni Makisig (ARDNM) follows the nine-year-old Makisig (Arjay Rosales), a new student in the school who wonders about his gender expression. There, he would meet Teacher Lourdes (Jiana Velasco), the playful and outgoing Luningning (Maureen Faye), the class clown Agapito (Michael Hilao), and the other pupils in class played by Ginger Nolasco, Hyojin Kim, and Maxine Cruz.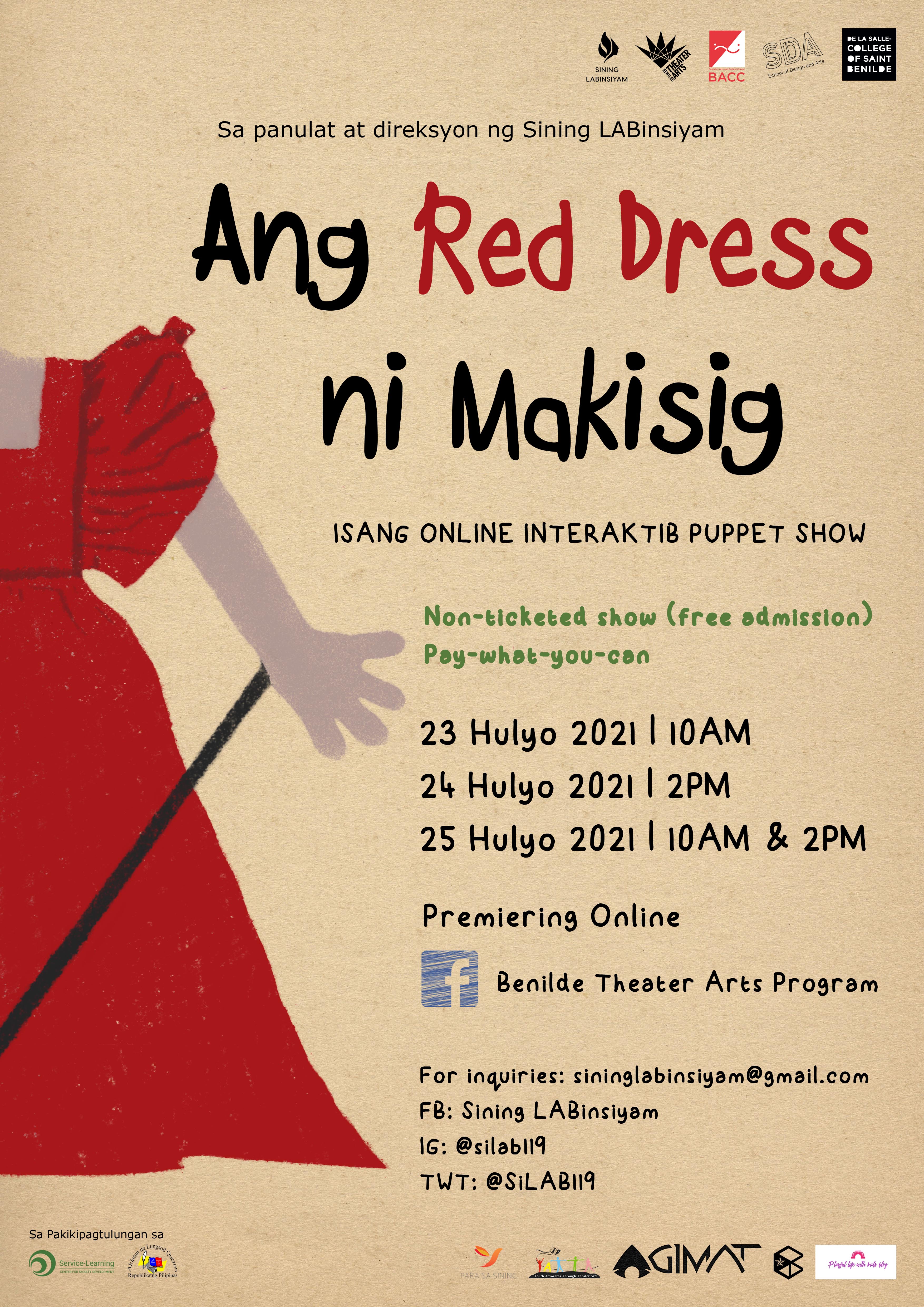 Being true to one's self
In an interview with The Benildean, ID 119 director John Angelo Gamboa believes that truth is the ugliest thing existing in life, and with ARDNM, it showcases a kind of truth that Filipino audiences will help "understand each other better and stereotypes would be broken."

This also serves as his first play to direct although he's been performing for several years already, such as in Ang Dakilang Teatro ng Daigdig, Pamato, Ding, Ang Bato! and Lying Creatures, to name a few.

As an artist who doesn't like to romanticize things, truth, and people, Gamboa stated the main theme of gender expression is caused by their desire "to teach something that is very timely and not usually introduced, taught, or talked about in school or at home." On the other hand, they aspire "to foster equality and acceptance among different individuals while they are still young."

Written by Jack Denzel Gaza, Arjay Rosales, and Mary Gabrielle Eilasor Serafico, viewers will experience "the underrepresented Filipino narratives into the contemporary stage." "The show is a step towards social acceptance on many levels. Also, in the almost four years that I've been performing and working with Benildean artists and teachers, this is a fresh take on staging a truthful and inclusive story," Gamboa added.


A new school with an old standard
Through the art of children's style hand puppetry, it portrays the expression of a kid's identity as showcased through wearing the stunning red dress, despite the negative perception of the majority. The said online show helps the youth to understand more about the realm of gender and self-identity as one strives to "fit in" within the confines of society.

Makisig flaunting the red dress signifies breaking the conventional norms on gender identity. Being true to one's self and freely expressing it may pose a challenge to someone young such as Makisig.

Aside from the whole production's hard work and dedication, Ang Red Dress Ni Makisig serves as a much-awaited show as it is "one out of many stories that deal with the struggles and restrictive environments of children which often lead to blind perspectives, confusions, and traumas," and the creation of staging such a truthful and inclusive show is deserving to be seen by people of all ages.

Follow Makisig's adventure towards self-expression on Facebook Live with these show dates:


July 23:

10 a.m. (Friday)

July 24:

2 p.m. (Saturday)

July 25: 10 a.m. & 2 p.m. (Sunday)


It will be available for free viewing, and pay-what-you-can is also encouraged. Furthermore, make sure to stay updated through Facebook, Twitter (@SiLAB119), and Instagram (@silab119).