With a promising vision for the art industry, two ID 120 AB Arts Management (ABAM) students launched Art in Need, a platform to bridge artists and opportunities that await them. In pursuit of a hopeful future for the local creatives industry, it is a movement for establishing relationships for artists in an illustrious community.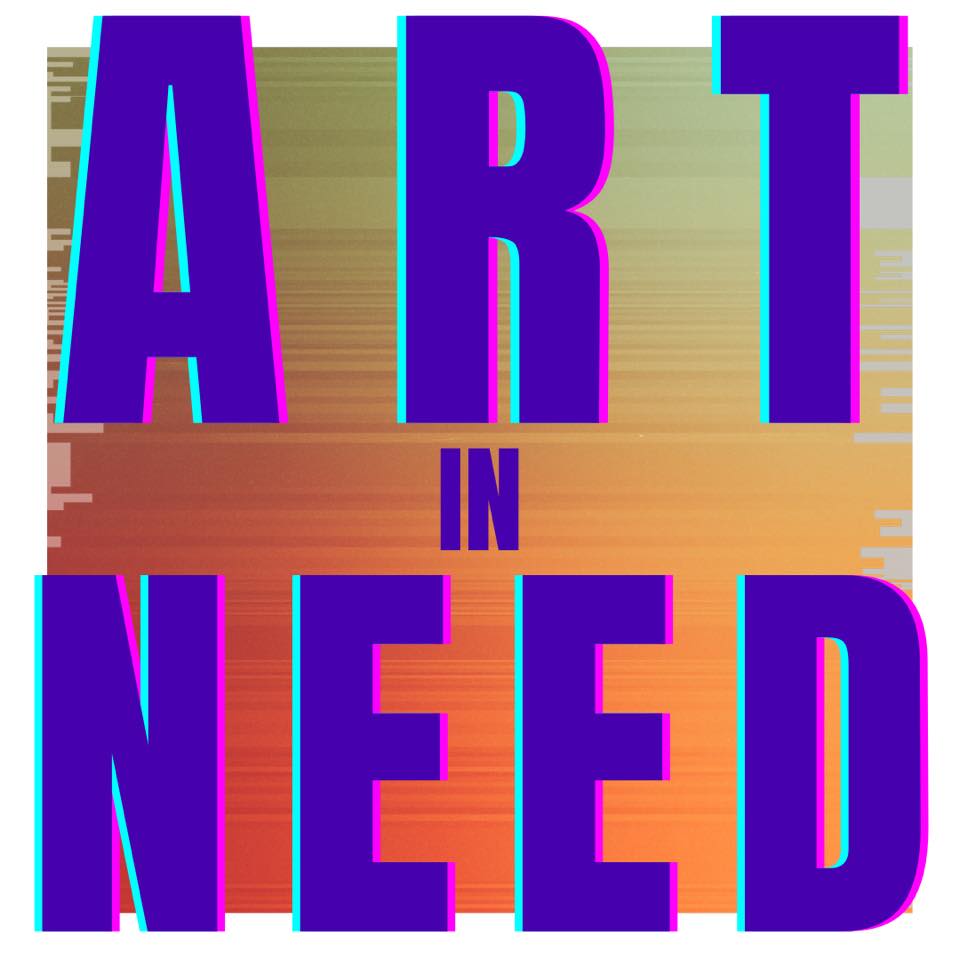 A bridge between art and the artists
As the art industry continues to change, the conventional ways of turning art into money has seen better days. Art in Need acts as a bridge between the creative process and execution.

In an interview with The Benildean, ID 120 ABAM students, Managing Directors, and Co-founders Bramwell Gonzales and Jose Salvacion, shared how in November 2020, Art in Need was born out of curiosity, enthusiasm, and willingness.

"It is also very important to keep in mind our hobbies that keep us entertained and active," Salvacion said. While for Gonzales, he was able to cope with the trying times by doing what he loves to do the most while giving value to others in the process.

As blockmates, their close ties have allowed them to look into what kind of businesses in the industry sector are going to thrive in the future. "We took inspiration from our program head. Our professors opened us to great networking opportunities and connections within the industry. This inspired us to create a platform that bridges the gap between local artists and the opportunities that await them," Gonzales and Salvacion shared.

"Art amplifies crucial voices and messages in times of social injustice and turmoil," Salvacion expressed. During these trying times, the arts "promote wellness in our daily lives by assisting us in processing our own lives and allowing us to come together as a community."

There is an abundance of talented artists in the different fields of art and for Gonzales, "the door to yet another world was opened to encourage tourists to appreciate the country's truly diverse experience."


The art of survival
For art to strive and survive, we need to accept the changes around us. Our world will solely revolve around technology—an important tool in both sustaining the artists both economically and creatively.

Art in Need's goal is to extensively promote art in the country while helping artists make a living out of it. "We may scroll through most of the Instagram posts we see, without realizing how many elements in each picture or video make it look appealing to people. Every day we weave our pathways through the area, and we rarely see how the buildings are carefully built and how the billboards are made strategically," Gonzales explained.

"Despite the limitations of only being allowed to pursue projects that are fully online, we continue to brainstorm different and innovative ways to engage with the art community," Salvacion added.

In an ever-changing world, there is a digital evolution happening in the world of cryptocurrency. Non-fungible tokens, or NFTs, are the new means of collecting art. "Kinda similar to collecting NBA cards or sneakers, but virtually. NFTs are literally anything that can entertain you digitally. It can be different types of digital art, digitally converted art, gif, music, anything you can imagine and do creatively," the duo said.

This is the world we live in. The vast technological advancements can push art further into limitless possibilities. According to the duo, "there will be more friendships and connections in the community on a daily basis, just through art! The real deal about this is it lets people become who they are."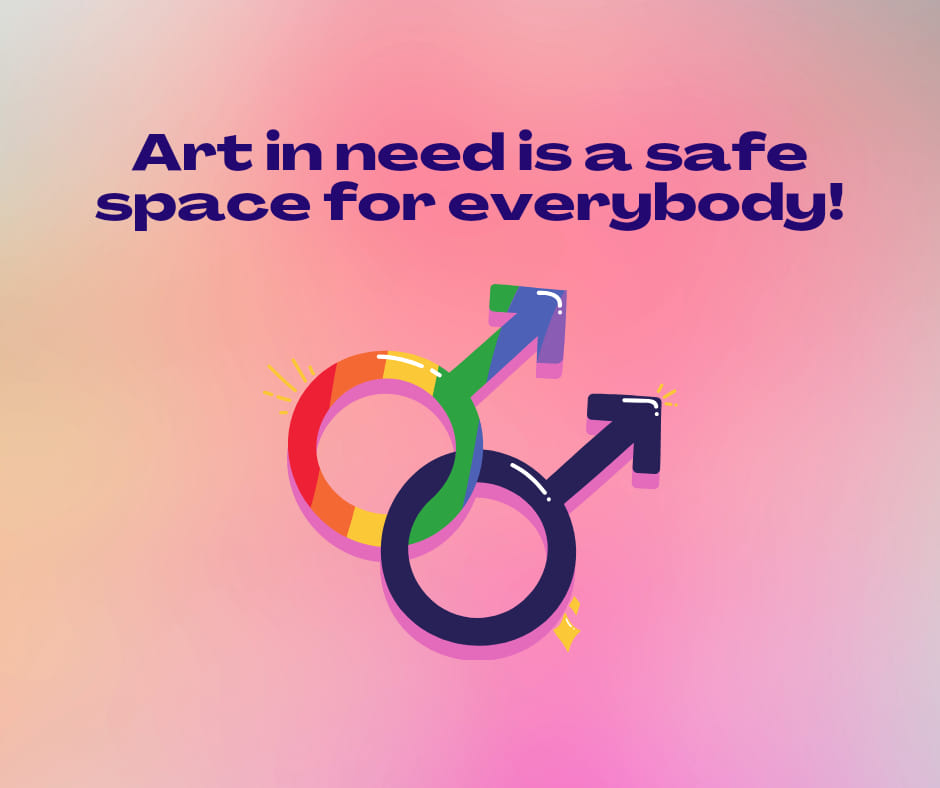 One with the community
On the other hand, artists survive with the help of a community. "We're in an industry, not a war. Most of the artists here may be relatively new [...] Some people put so much of themselves into what they do, leaving bits of them in the things they make as they are a representation of them and their emotions, points of view, and feelings. Some individuals sometimes go unrecognized but continue to do what they love," Gonzales said.

Participating in courses, webinars, and gatherings is a fundamental tool in an artist's growth. After all, "art can be a landscape full of lines and colors. But these things funnel through invisible doors一namely livelihood, physical health, personal relationships, artistic growth, and perhaps purpose searching," the duo added.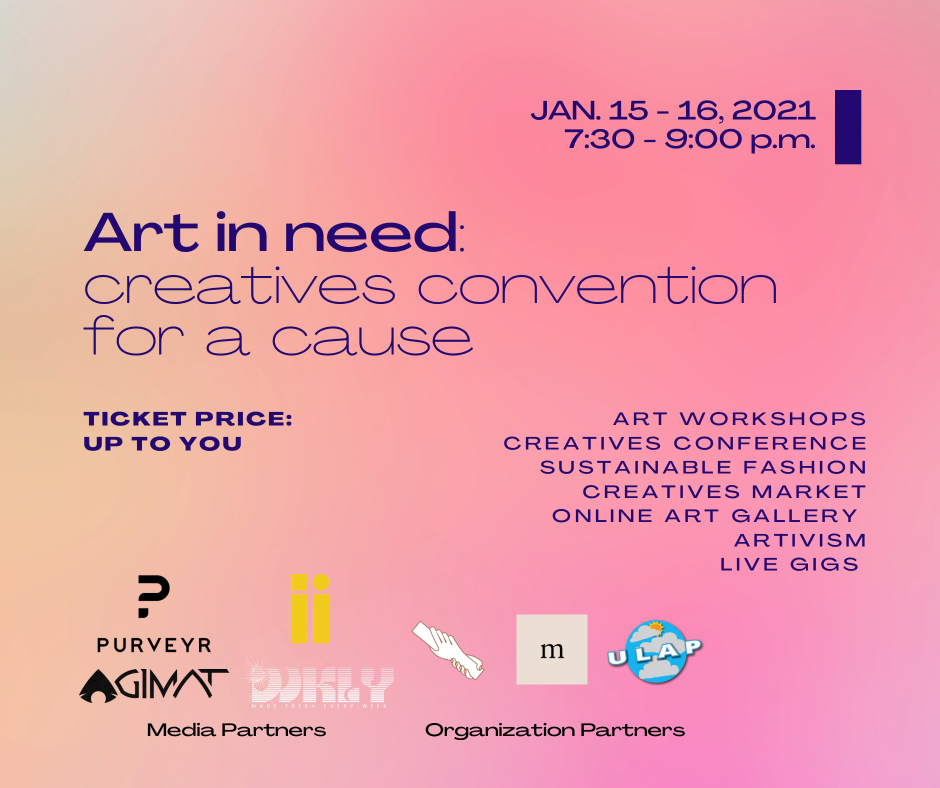 Having launched "Creatives Convention for a Cause 2021," Art in Need's debut event, the duo was able to raise funds to donate art materials for 100 to 200 Grade 6 pupils. Furthermore, through virtual art gallery opportunities, the event was able to champion the industry's local creatives.

Moving forward, according to the duo, we can expect more events from Art in Need that promote collaboration and build bridges for more opportunities in the local creatives industry, "From clients to artists, we don't need to fight and debate. What we need is to communicate. This is our M.O. We understand the problem first and do actual action to solve it."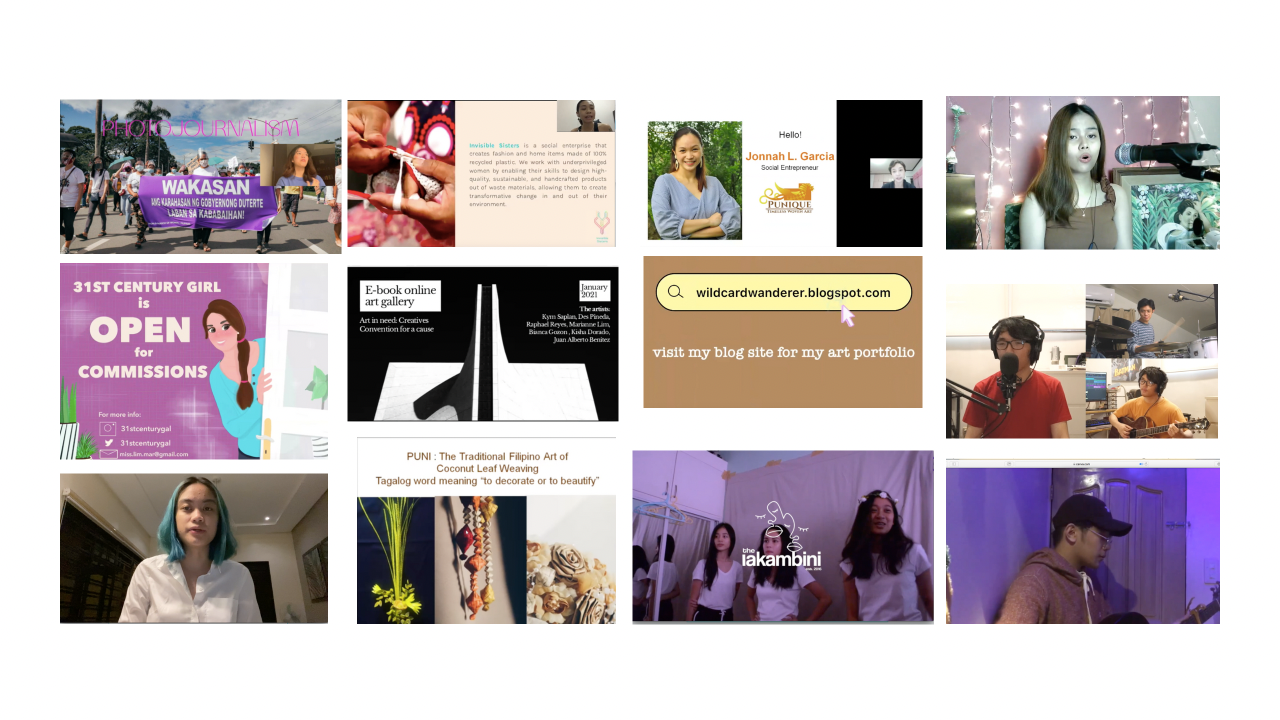 To artists and creatives currently creating art during the pandemic, there is a need to adapt. "Being in the creative industry is just like exercising: you have to practice to get strong at it. However, creativity is a process. It may start with a plan but it evolves once you get started. Whatever we create is changing," the duo shared.

Looking to connect and collaborate? Connect with them through their socials: LinkedIn, Facebook, Twitter, YouTube, Instagram, and Medium. #ArtInNeed