As one of the 100 Miss Universe Philippines (MUPH) delegates, Benilde's homegrown Noelyn Rose Campos is set to be the first Antiqueña to represent the province within the national pageantry scene. In no shortage of passion, courage, and confidence一this ID 115 BS Hotel, Restaurant, and Institution Management (HRIM) graduate reveals that she is most excited for the rest of the Philippines to know what her province and its people are made of.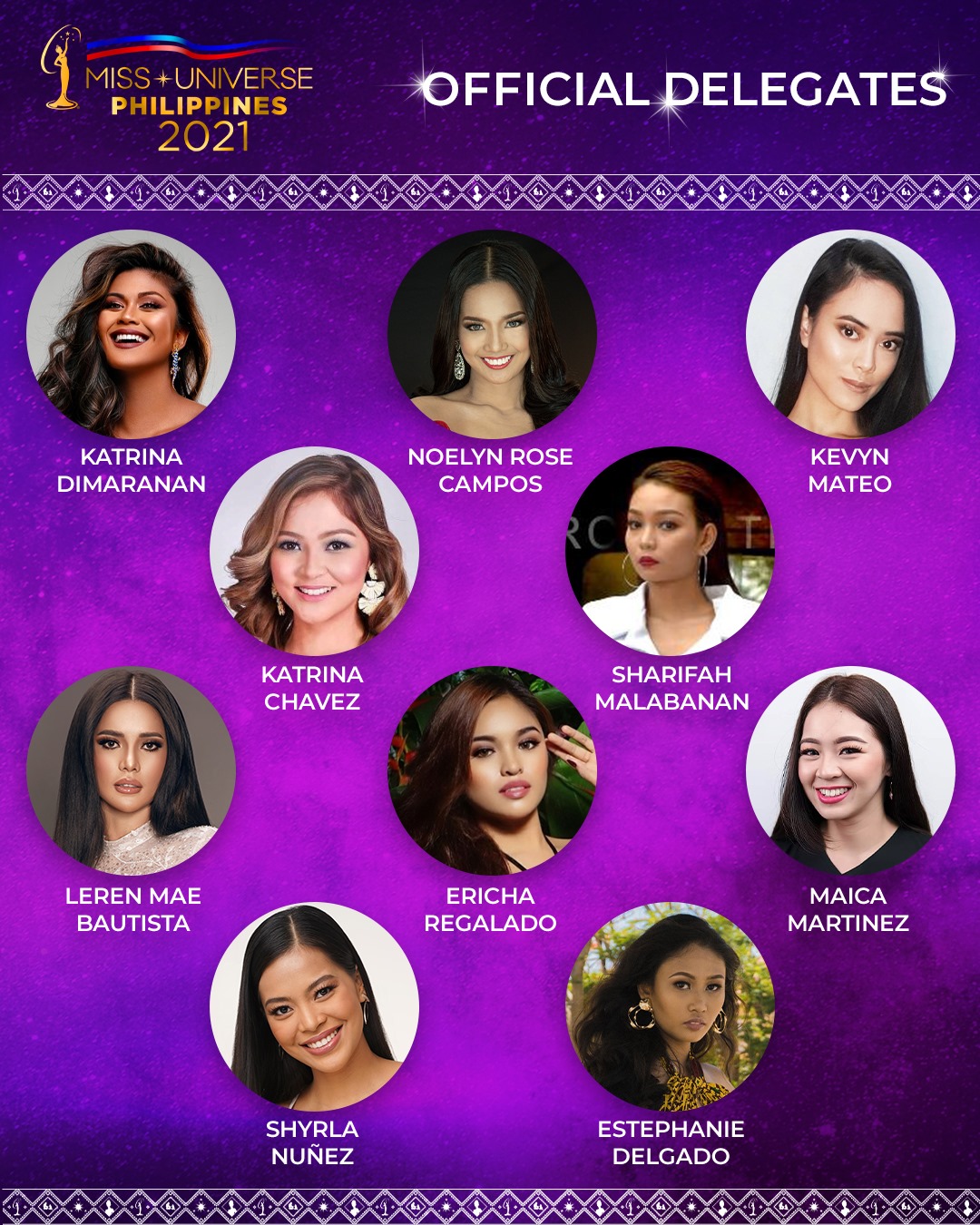 Of caps and crowns
Campos has worn several caps over the years. She has not been shy of adding feathers to them along the way, as these plumes will most certainly aid her journey towards clinching one of the country's most coveted crowns.
Currently a freelance graphic designer, a social manager, and an English tutor to boot, it was actually her athleticism that primarily steered the course of her life at a young age.
"I was discovered accidentally, actually. I was just an ordinary fifth-grade student, when my coach Michael Montinola went to our school to supposedly do paperwork. Then, because I was the tallest one in class, he took notice and approached me to ask if I'd be interested in taekwondo. The rest was history," she shared in an interview with The Benildean.
Afterwards, in the 2014 Palarong Pambansa, she was introduced to Benilde Taekwondo coach Mr. Roberto Cruz. She recalled that "several other schools expressed their offers as well, but I was really drawn to CSB."
Despite considerable experience from her high school debut as a beauty queen in Miss Freshmen 2011, Mister and Miss Antique National School (ANS) 2011, and the province-wide Mister and Miss Student Technologists and Entrepreneurs of the Philippines (STEP) 2012 where she emerged victorious once more, Campos modestly pointed towards her towering height as a common denominator that bridged the gap between taekwondo and pageantry.
"I am quite tall. So most people I meet would say, 'Why don't you join pageantry? Or be a Miss Universe?'" she said with a smile to mask her hesitations towards such, given how much dedication and resources it would take to compete on that scale. Eventually, the stars aligned as she was scouted by the province itself, but destiny would have Campos finish her education first.
Heart of a blazer
In 2015, Campos embarked on her journey in Benilde's School of Hotel, Restaurant, and Institution Management (SHRIM). As a student, she had always been fascinated by different cultures and the people-centered stories behind postcard-worthy destinations. With her course, she had the opportunity to fully grasp what tourism was about.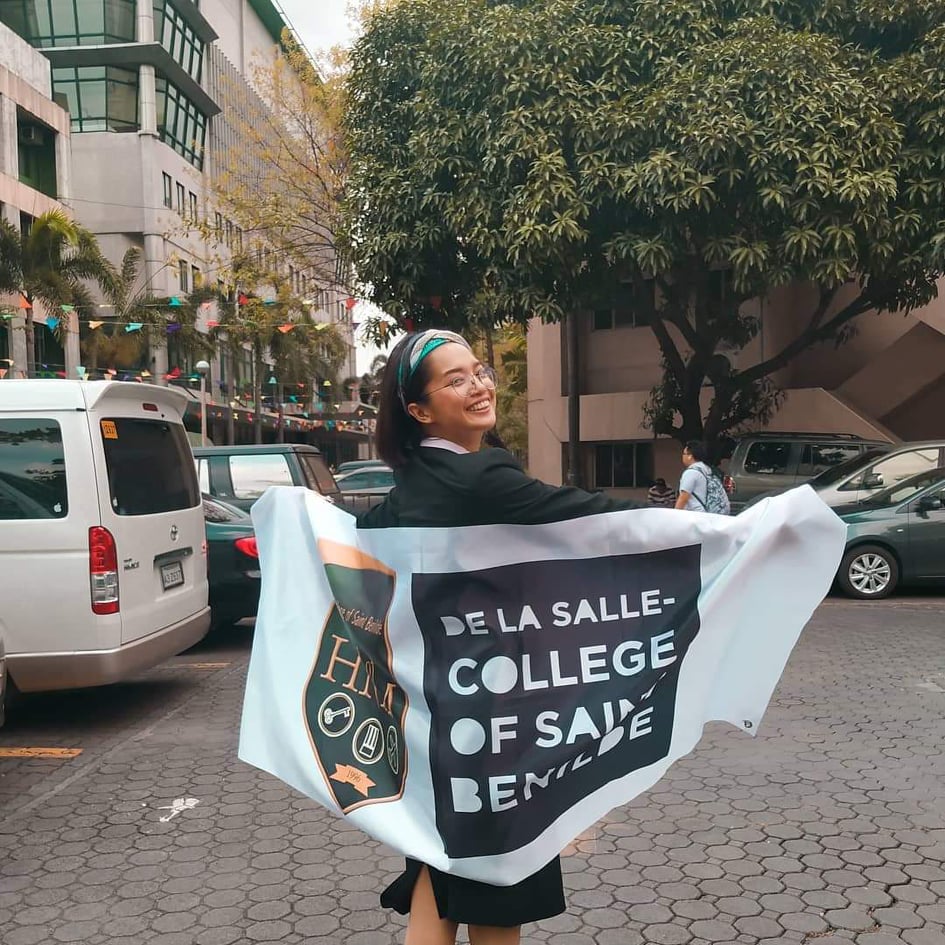 "I was able to understand the technicalities of the industry, how significant it is for the country's overall GDP, and how it helps the economy." Furthermore, she shared that this led her to the post-graduation idea of "[going] back to [Antique] and help strengthen this sector since [her] province has so much potential."
Within the College's corners, she was able to pursue the things she's passionate about, "like public speaking [and] creating creative presentations to present in class."
As passion and dedication spawned excellence, she went on to be amongst the pioneering batch of Benildeans who competed at the Union of the Filipino Tourism Educators (UFTE) Cup, clinching 10th place out of a pool of more than 50 participants all over the country in the Virtual Tour Guiding category. Additionally, her internship in Singapore Airlines drew her close to the aviation industry and kickstarted one of her newest dreams—to become a pilot.
Campos also earned her stripes as a Green Jin and brought to Benilde a four-peat championship and an MVP title in the National Collegiate Athletic Association (NCAA) Seasons 93 and 94.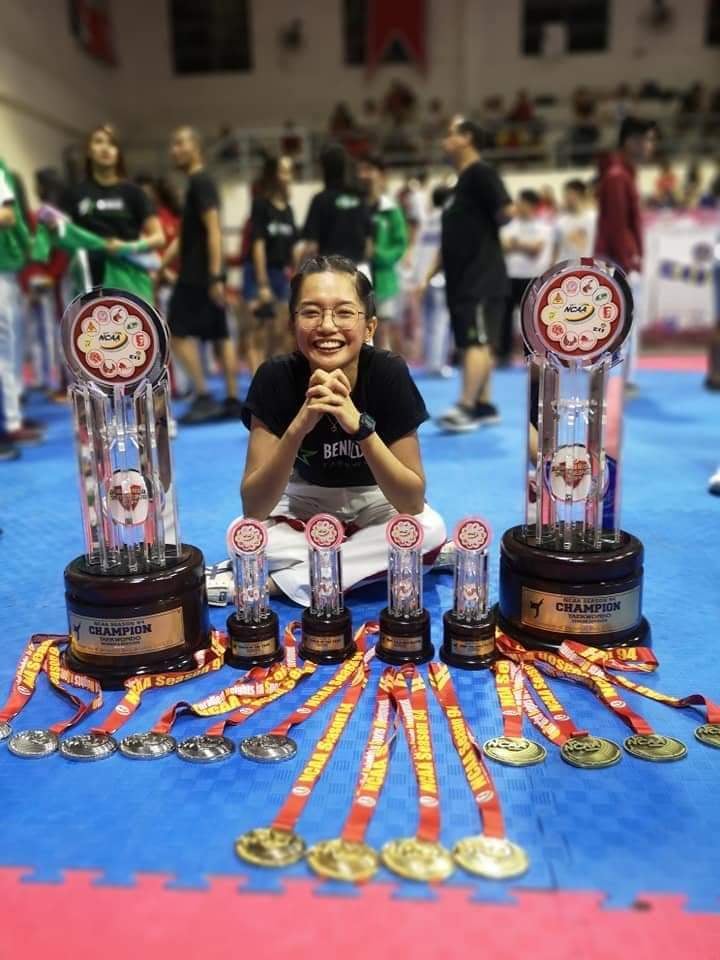 In her fruitful student-athlete journey, she participated in the College's annual champions team sports clinic and had the opportunity to teach the basics of Taekwondo to children in remote areas of the Philippines.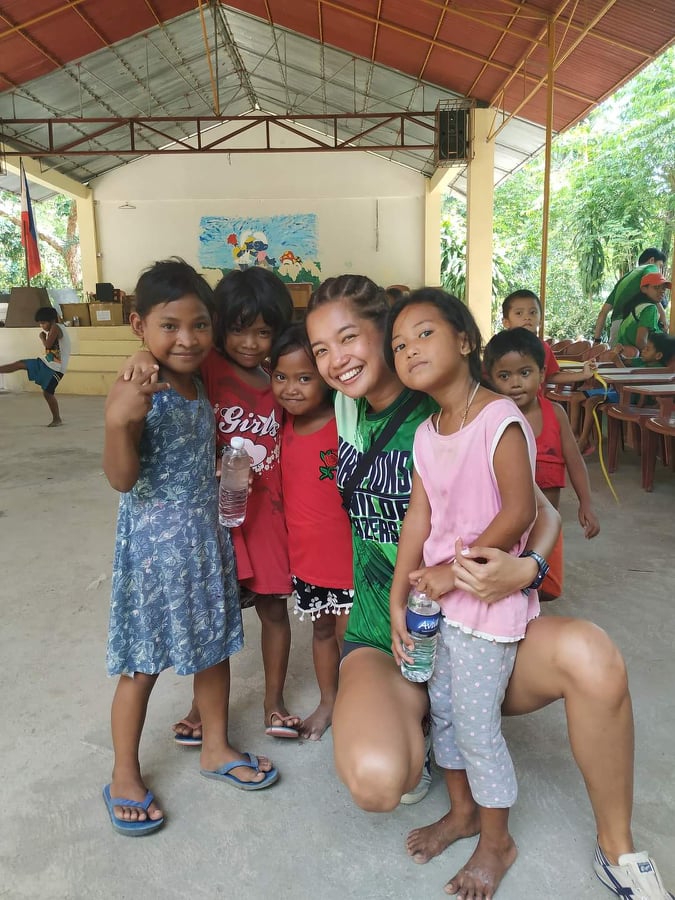 In 2016, Campos was also admitted into the ranks of the Taekwondo Philippine National Team. Hence, whilst her introduction to the sport might have been a serendipitous stroke of fate, the extraordinary feats she accomplished were certainly no accident.
Moreover, beyond accolades, Campos acknowledges the wide gap between her past self as a college freshman and where she is now. "I'd boldly say that a huge part of who I've become right now, I owe it to the opportunity that CSB has given me; I was able to discover who I was and what I was capable of doing. But more than anything, I am now able to grasp and understand the importance of inclusivity and appreciation of one's worth."
Pageantry and purpose
Born and raised in San Jose, Antique, she was easily the whole package that the province was looking for. After several years of hanging onto one's heels, she was ready to strut towards the center stage once more with formidable rhetoric behind her pageant comeback.
"I'd rather say I've tried rather than regret it for the rest of my life [if] I didn't," she shared.
Setting her nerves aside, she met the MUPH organization through the Zoom screening process applicants had to go through. She was initially nonplussed by how quick and light the interview was for her. Coyly keeping her application a secret from her friends and relatives, she eventually shared their surprise when her phone notifications skyrocketed. It's safe to say that she was honored, excited, overwhelmed.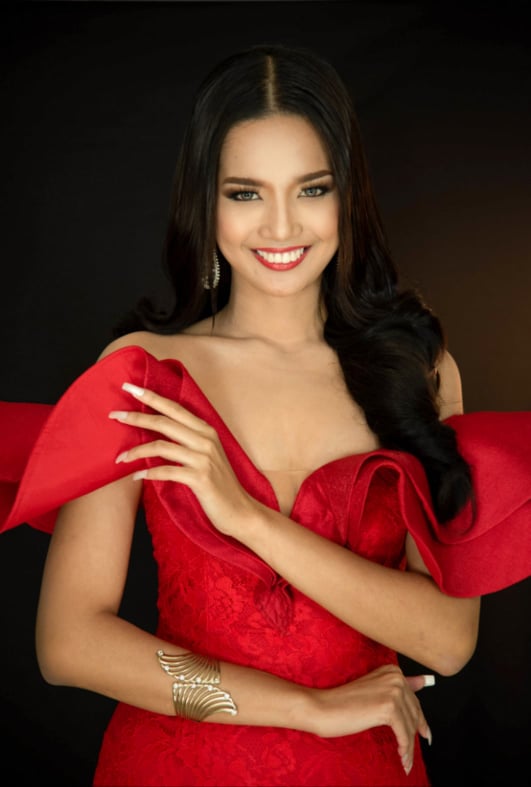 In light of the Benildean-Lasallian community's support, this alumna would like to remind us that, "We are told that we do ordinary things extraordinarily well. I hope that each of you would also pursue something you're greatly passionate about. If you dream, dream big. Because one day, when you least expect it, it'll unravel right before your eyes. When that happens grab it and claim it to be yours!"
At the same time, determination surged through her being as she sees the pageant as a platform to tap into a wider audience, engage in conversations, and champion her advocacies. Rather than keeping the notion of a beauty queen on a pedestal, Campos endeavors to be a breath of fresh air by shedding light on the fact that "these queens are humans with stories, some with humble beginnings."
By sharing her story, she wants to inspire other people, particularly children, to realize that they too are capable of achieving their dreams. Likewise, as an advocate for self-empowerment, Campos hopes for each of us to "discover whatever it is that we are passionate about, may it be for academics, the arts or in my case through sports and pursue it to maximize our potential."
In a similar vein, she is also a staunch advocate for sustainable tourism, "I know that it is something that we should practice more. The tourism industry is one of the sectors that affect our overall economy. If we could push forward with innovative and sustainable ways to preserve our natural resources and destinations then we could make it last a long time and not just for a phase," she stated sagely.
Walking the talk, Campos certainly won't cease her lifelong commitment as a sustainable tourist, as she promotes her province with pride in her bid for the MUPH crown.
Given that the MUPH organization will take into account fan votes via its official application for delegates to proceed towards the Top 75, Campos urged the support of the Benildean-Lasallian community in her journey. "I'd like to ask for your help to get me through the next stages of the competition. Kindly download the Miss Universe Philippines application from either the Google Play Store or the Apple Store and vote for me. Please keep me in your prayers."
With users being able to cast one vote per day until August 1, let us be a positive force to thrust this Antiqueña alumna to the top!