Bea Cruz, an ID 114 Fashion Design and Merchandising (FDM) alumna, revealed her latest fall collection "Bright Young Things" which aims to express her desire of bringing back the glory days through her exceptional artistry—leading her to bag the Ashley Nell Tipton Top Designer Award.

The career of Bea Cruz continues to be on the rise as a result of her impressive craftsmanship skills and creative wardrobe designs. A hardworking fashion designer from Victorias City, Negros Occidental, the ID 114 FDM alumna participated in the Fashion Week San Diego (FWSD) Fall Runway in October 2021, where she later received the Ashley Nell Tipton Top Designer Award.

This is named after Ashley Nell Tipton, guest judge and fashion specialist—known as the first plus-sized fashion designer who ranked first on the fourteenth season of the hit American competition series "Project Runway."


Exuding power through glamor
Emulating the luxurious and ravishing styles of the 1920s, Cruz aspired to create clothing ensembles that would empower and impact the FWSD audience. The Bright Young Things collection aims to impart the message of fostering positivity and strength despite the onslaught of the COVID-19 pandemic.

The term "Bright Young Things" emerged back in the 20s era, when the tabloid press used the phrase as a nickname for bohemian socialites and aristocrats, who were known to be notorious. They were characterized as self-indulgent and extravagant with outlandish personalities.

In a feature article for The Manila Times, Cruz expressed that the collection is reminiscent of the time when people—after being struck by the Great War and the world's deadliest pandemic, the Spanish flu—craved for the light, speed, and celebration of life.

Taking inspiration from the events caused by the pandemic, she took the initiative to focus on building positivity and empowerment at a time of uncertainty and distress.

"My collection 'Desiderare Fall 2020' was made during the pandemic. As I was in the middle of sewing pieces, an idea of 'the past repeats itself' came into mind. I wanted to do something that [we] can look forward to. Then the collection, Bright Young Things, was born. Basically, I get ideas and inspirations in very random moments and jot them down on paper, then I let the process flow creatively. I want my pieces to reach people. A collection people can relate to," Cruz shared in an interview with The Benildean.

The 20-piece collection features an assemblage of silhouettes, intricately handcrafted dresses, the use of flamboyant soft tulle pieces, and heavy sparkling hand-sewn beadwork.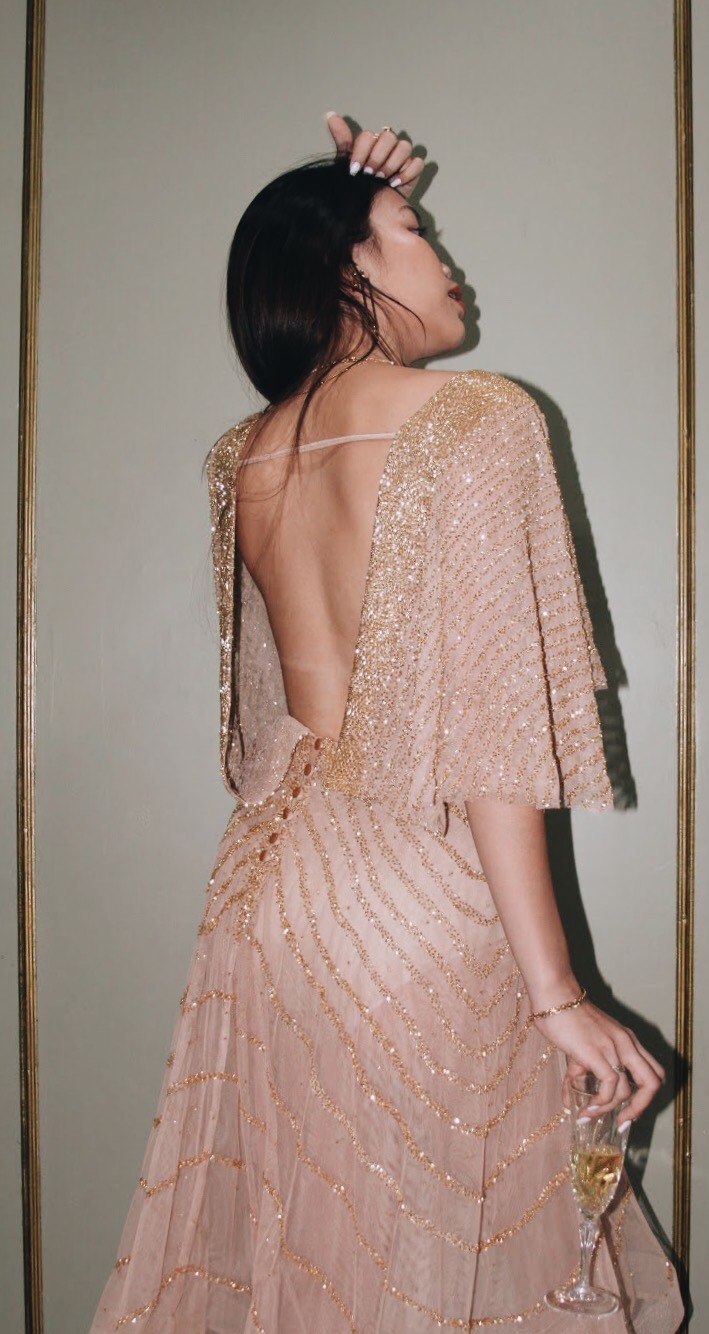 Photo Courtesy of Daily Tribune

The dress makes use of soft tulle and two kilos worth of gold crystal seed beads.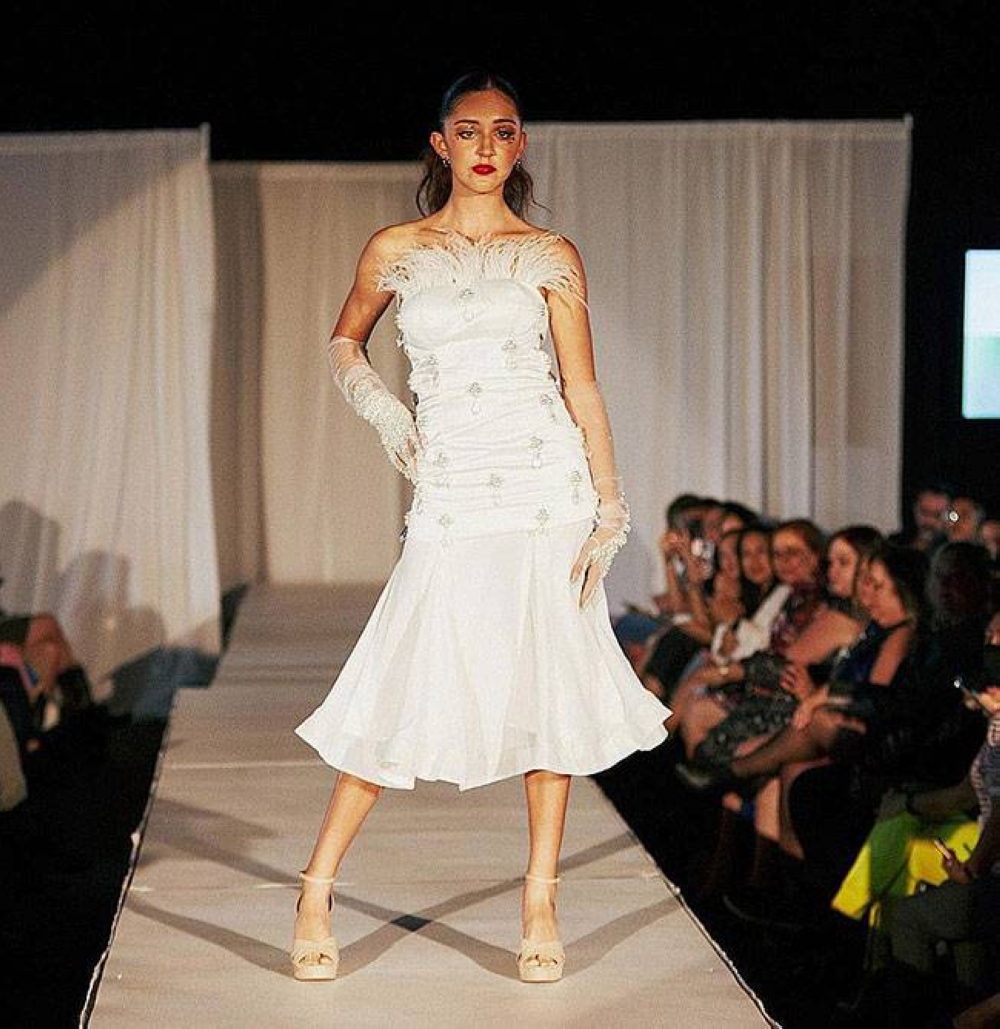 Photo Courtesy of Manila Times


A display of elegance drawn by inspiration from the antique chandelier of Cruz's grandmother.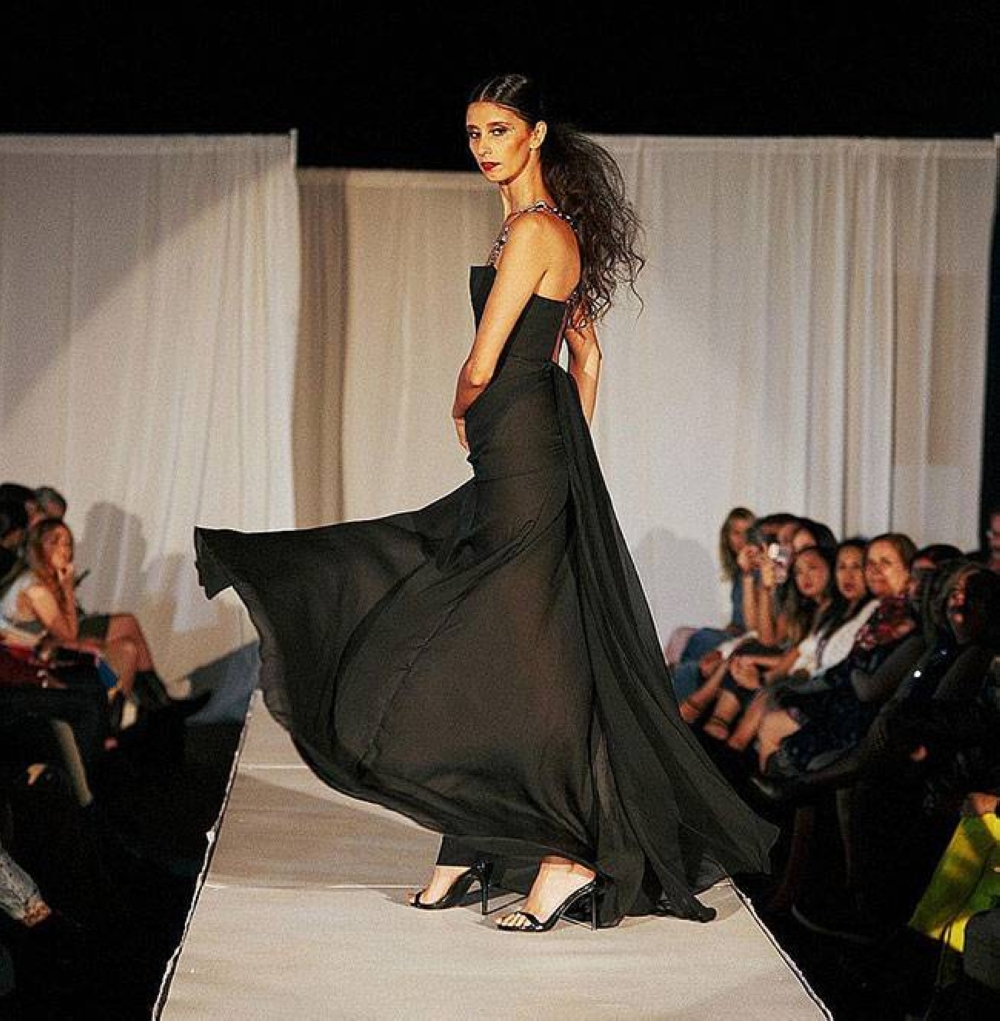 Photo Courtesy of Manila Times


A display of extravagance through a detachable train on the dress, enhanced with acrylic chain straps.


A strong passion for fashion
Receiving the Ashley Nell Tipton Top Designer Award, as well as being given the opportunity to participate in FWSD, were such monumental and motivational experiences for Cruz. The designer expressed her gratitude and satisfaction for being able to be recognized for her skills and talents.

"I was truly honored to be personally chosen by Ashley Tipton for this special award and having my works acknowledged from the designs, down to how it was made by Ashley herself, gave me the confidence as an artist. My work definitely paid off," Cruz shared.

Apart from receiving this award, her international debut kicked off to an incredible start as she was declared Top Designer at the 2020 FWSD for her past collection "Vivirá," a 10-piece autumn series centered on a modern take of the traditional baro't saya, panuelo, and barong. Cruz continues to make a name for herself through her impressive collection of accolades, one of them includes The Art & Beauty Behind Fashion Best Team award during the 14th International Virtual Art Renewal Center (ARC) Salon Exhibition. Known as the most prestigious realism art competition, this award was presented by the world's largest art and luxury marketplace Sotheby's, in partnership with FWSD.

Her wide range of expertise is exemplified through a diverse portfolio of bridal gowns一3D fashion design projects, featured collections for runway and magazine, as well as numerous exhibition works. The designer advocates the power of fashion design as an outlet for instilling greater confidence, manifested through her signature bold and feminine clothing pieces.

She proudly thanks Benilde for playing a role in her growth and development as a fashion designer. One of her "gifts" includes being able to find extraordinary things in the ordinary.

For current students of the FDM program, together with the Benildean community, Cruz emphasized the importance of having a learner mindset, and to be optimistic and confident with one's own work and craft.

"Be a constant learner and never be apologetic with your art," she added.